Donate to IPNA Today
Please help bring our Vision to fruition: Optimal Care for All Children with Kidney Disease. Since 1974, we have worked tirelessly to disseminate training and knowledge to doctors worldwide to treat children with kidney disease. IPNA is doing exceptional work, yet the need for IPNA and its programs is still enormous. Kidney issues dramatically impact global health, yet sadly, kidney disease does not receive the publicity that cancer and heart disease generate. As a result, IPNA must wor harder to raise awareness about kidney disease in children and IPNA's mission.

Sponsor a Member
There are 194 nations in the world, yet only half of them have IPNA members. If you would like to sponsor a doctor from a developing country with IPNA membership for one year, please complete this form and follow the instructions as indicated.
To Sponsor a Member by check, simply include your check with the completed form and mail it to us.
To Sponsor a Member via bank transfer, you will need to complete the form and send it to us, so we can accurately process your gift. The bank transfer information is included on the form. You can mail the completed form or send us a .pdf to ipnafoundation@theipna.org.
To cover the cost of a Member Sponsorship with a credit card, complete and return the form. You can mail the completed form or send us a .pdf to ipnafoundation@theipna.org.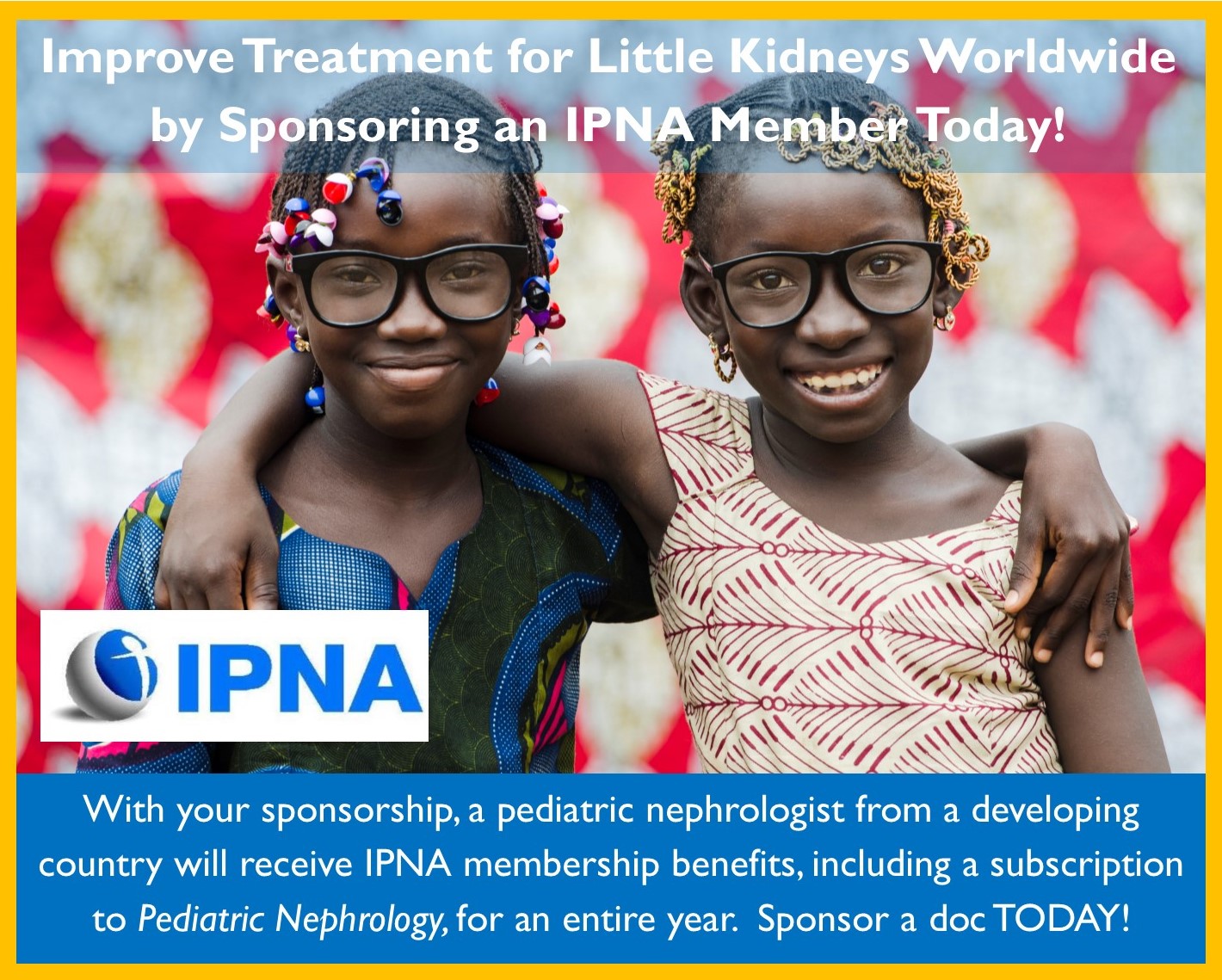 A donation in any amount will help us further our mission. Our approach is literally saving the lives of children with kidney disease all over the world. Help us strengthen and expand our programs to better support nephrologists, who can then teach and train their colleagues in the countries where children with kidney disease need us most.  Your support now is critical, so please make a donation today.


IPNA is a US-organized 501(c)3, nonprofit charitable organization providing support for global programs. Your donation is tax-deductible to the full extent allowed by law. Your generosity and support are greatly appreciated.
To donate using your Credit Card, click on the blue Donate button below.
Donate by Credit Card
Thank you!
Donate by Check
Please print and complete this form. For donations in the amount of $1,000 or more, you can indicate how you would like to support IPNA or allow us to direct funds to where it is needed most.
Along with your check, made payable to the International Pediatric Nephrology Association, mail the completed form to:
IPNA
C/o Division of Pediatric Nephrology, 2POB.17A
Children's Mercy Kansas City
2401 Gillham Road
Kansas City, MO 64108
Thank you!
Donate by Bank Transfer
To donate by bank transfer, please follow these instructions.
In addition to transferring the funds, please be sure to complete and return the form to us, so we can process your gift accurately. You can mail the completed form or send us a .pdf to ipnafoundation@theipna.org.
Thank you!

IPNA is committed to nonprofit transparency and has proudly reached the Silver Transparency Level on GuideStar, a charity watchdog service. The GuideStar database includes about 1.8 million IRS-recognized tax-exempt organizations in the US, and less than 1 percent of these organizations have reached this Silver Transparency Level. At IPNA, we know that there are millions of ways that you can spend your charitable dollars to help good causes around the globe. Support IPNA and know that your generous gift in any amount is being used responsibly to further our mission.
For more information about an IPNA donation, please contact us.